EYW: Engineering Design and Analysis
Course Overview for EYW: Engineering Design and Analysis
Engineer Your World (EYW): Engineering Design and Analysis is a hands-on, design-based, inquiry-focused engineering course for all learners. In this course, students discover the engineering design process, make data-driven decisions, and work in multi-level teams to solve complex challenges.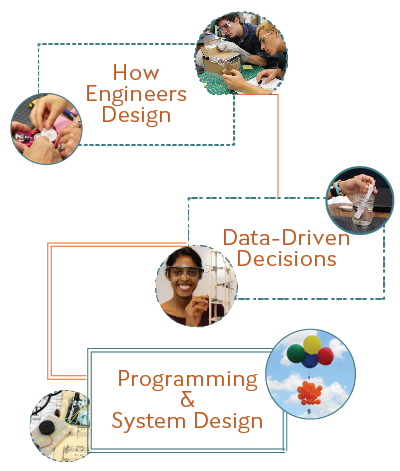 How Engineers Design
Students discover the design process by creating solutions for people with disabilities. They reverse engineer a consumer product to think about how someone else designed it – and how they could do it better.
Data-Driven Decisions
Students uncover the challenges and opportunities of working together to collect, analyze, represent, and argue from data. They use these skills to redesign a building for human safety.
Programming & System Design
Once students know how engineers design and how to make data-driven decisions, they are ready to apply these abilities, along with basic coding skills, to design more complex solutions in a systems engineering capstone challenge.
Request the printable course overview and access sample lessons.
Unit Descriptions for EYW: Engineering Design and Analysis
Students explore mechanical, chemical, civil, electrical, and aerospace engineering through a series of design challenges that illustrate how engineering can improve people's lives and health, meet the special needs of different customer groups, and even enable creativity in the arts.
Unit 1: Pinhole Camera (Discovering Design)
Unit 2: Flashlight Redesign (Reverse Engineering)
Unit 3: Calibrated Coffee (Understanding Data)
Unit 4: Safer Buildings (Data-Driven Design)
Unit 5: Electronic Music (Algorithms and Programming)
Unit 6: Aerial Imaging (Engineering Systems)
Benefits to Students
EYW: Engineering Design and Analysis expands opportunities for all students by building creative problem-solving and engineering design skills; teaching the value of collaborating to solve complex, modern problems; and creating a strong foundation for future STEM learning.
Students who plan to pursue future engineering studies benefit from learning rigorous design skills and habits of mind and from exploring multiple engineering fields and professions. Those with other plans benefit from learning to think critically and solve complex problems – skills that are useful in any field.
The combination of minimal prerequisites and optional dual enrollment credit allows our first course to be accessible by all students in grades 9-12, while also providing additional layers of difficulty for those seeking an extra challenge.

Standards Alignment